Call to our manager
it will always be a pleasure to attend you!
+1 325 875 49 63
Farm III
Enterprises
We offer the ultimate boarding service, the farm counts with a high-top facility including barns and stalls that are all equipped with excellent ventilation. We partner with the best quality feed stores in the area that allow us to offer a healthy and balance nutrition feed to each horse. Finally, each horse is able to exercise in our space comfortable pastures and in a convenient equine swimming pool, all this is possible with the monitoring work that our in-house veterinary provides every day.
Our pedigree team will assist you in each and every step during the season, breeding consultations will help you to determine the best horses' qualities and opportunities you have for the season and we also serve as point of contact with some of the best Stallion Farms in Kentucky.
Our excellent Perinatal Mare and Foal Care goes form the adequate daily exercise, vaccinations, and deworming that is necessary for the mare and foal. During and after gestation, we make sure the mare and foal maintains a healthy routine diet and good body condition to ensure the foal development as well as monitoring both in a daily basis under our in-house veterinarian.
We offer breaking, layups, and sales preparation in Ocala, Florida. We serve as consignors for the Ocala Breeders Sales for weanling, yearlings and 2 years-old horses.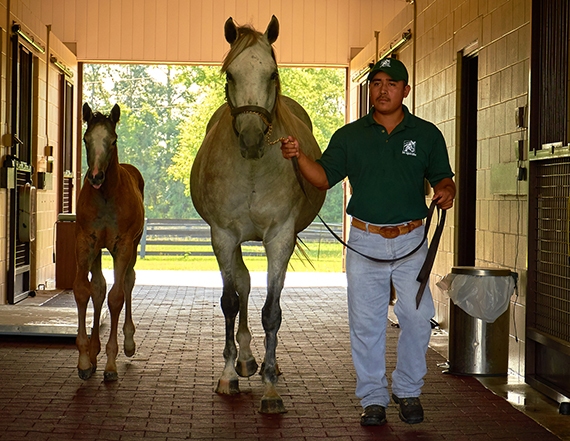 We provide safe and reliable local horse transportation, horse hailing, and horse shipping in daily and weekly based using our own trailers.
Our horseman team will help you with the entire process to buy and sell horses for breeding and/or racing.